The formula is simple: a reader, some listeners, and a book of suspenseful stories; beginnings, middles and ends, with a few twists and turns along the way. Nothing fancy of high tech: just words in silence, and the occasional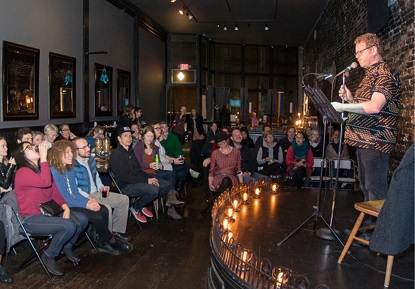 laughter or gasp. That's Thrilling Tales: A Storytime for Grownups, now entering its sixteenth year at the Central Library. Join us, won't you?
Here's some of what awaits you in the months ahead:
Sunday, January 20, 7 p.m. at Third Place Books Seward Park. Unintended Consequences: It's the Law: A Dip in the Pool, by Roald Dahl. Gambling on the high seas can be awfully fun, but as the stakes rise a shipboard wager gets out of hand. Also, Those Three Wishes, by Robert Scott.
Monday, January 28, 12:05 p.m Central Library, Auditorium. For the Love of Books & Libraries: The Last Librarian, by Edoardo Albert. "I am one of the secret masters of the world. I am a librarian. Don't ever piss me off." Also, Hey Jude, by Francis Brody. The cops picked her up for shoplifting, but wait 'til you find out what she stole. (These stories will be repeated at Third Place Books Seward Park on Monday, March 13 at 7 p.m.)
Monday, February 11, 12:05 p.m. Central Library, Auditorium. The Party, by William F Nolan. He didn't know how he got there, but one thing was certain: this was going to be one hell of a party. Also, The New Deal, by Charles Einstein. The House always wins, but then – it's their deck!
Monday, February 25, 12:05 p.m. Central Library, Level 4, room 1.  Dumber than Dirt, by Libby Fischer Hellmann. Derek never was the sharpest knife in the dishwasher. Word to the wise: when stealing a car, check the trunk first.
Monday, March 11, 12:05 p.m. Central Library, Auditorium.  The Other Side of the Wall, by Stanley Ellin. Someone had better call the police: Dr. Schwimmer and his patient Albert are about to have a major breakthrough. Also, The Great Silence, by Ted Chiang. The humans look to the stars for non-human intelligence, but we parrots are right here. Talk to us!
Many more thrills and chills await: find more upcoming Thrilling Tales right here, or pick up our annual flyer at your local branch library.
               – posted by David W.