Graphic novels are doing particularly well in the Pacific Northwest, with Short Run Comix & Arts Festival coming up I like to prepare for the small press and independent level of creators by focusing on local creators. From mainstream on down to independent, Seattle has every genre being created right here. Here are a few favorites!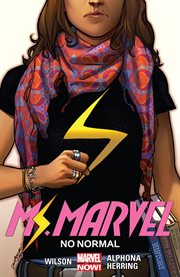 G. Willow Wilson is a local creator, known for her writing in the novel The Bird King and Alif the Unseen, she also helped marvel comics welcome the first Muslim superhero in their history – Ms. Marvel! Kamila Kanh suddenly gets super powers and now is trying to juggle being a superhero with normal teenage concerns like school and friendships. Hiding her identity and finding what kind of superhero she needs to be, Kamila's story is an excellent refresh of the classic superhero narrative.
Going to another well known title, Amulet by Kazu Kibuishi is a local creator who captivates readers of all ages with this fantastical tale of siblings who find a portal to another world in their basement. Dealing with loss and discovery the story doesn't feel old with Kazu's unique flair for writing and will leave you wanting the next book as soon as you finish the first.
Did you know that we have a mid-sized comic book publisher, Fantagraphics, located here in Seattle? Recently they released I Know What I Am: The Life and Times of Artemisia Gentileschi by Gina Siciliano. This stunning book follows Italy's greatest female painter, Artemisia Gentileschi, who changed painting in the 17th century and was constantly challenged by other painters, being one of the first women in a male dominated field. This book is all done in pencil with a unique style and extreme detail on every page.
Were you searching for a comic that understood the deep range of colors the Pacific Northwest has? By using vivid colors throughout the story Keezey Young gives you that fresh spring and early summer feeling in the illustration of her book Taproot. This comic follows a young gardener and his best friend Blue– who happens to be a ghost. As an odd darkness starts to attack Blue they must figure out a way to stop it together.
Tatiana Gill is an independent comic creator who has a wide range of work, including a fat positive coloring book and books dealing with those who are not represented in mainstream media. My favorite is Omnibusted: Stories I told myself is an autobiographical comic that deals with her drinking and coming of age. Tatiana deals with some heavy subjects, but her easy going drawing style and inviting nature make these comics enjoyable and different.
Want smaller and independently published works that are closer to some of the work being showcased at Short Run? Check out the ZAPP Zine Collection open on Wednesday 11am to 1pm or by appointment. Featuring over 30 THOUSAND zines in a variety of topics, covering everything from personal stories to political criticism, there is sure to be something to suite your taste. It even has zine issues by Bikini Kill, a riot grrl band, local queer zines, and a zine made with a paper bag cover (nearly anything could be a zine!). It's a great way to familiarize yourself more with zines, find new creators you like, and even dive deeply into what self-published work can look like before Short Run starts.
Short Run Comix & Arts Festival – Saturday, Nov. 9th, 2019, 11 am-6 pm.   Festival is free to the public.
~posted by Margrith