Each of us has a picture that pops into our minds whenever we hear about the yule log. Whether it's a log on the fire during Winter Solstice, a decadent dessert, or a cozy mystery. Here are a few items in our collection to celebrate the yule log in its many forms!
For apartment dwellers or those of us without a fire place you can stream your yule log fix! Access Video offers an hour of log burning, with music included, in The Ultimate Yule Log – "the Christmas classic! Instrumental and vocal music set against yule log fireplace footage. Songs include "Silent Night," "Deck the Halls," "Rudolph the Red-Nosed Reindeer," "O Come, All Ye Faithful," "Good King Wenceslas," and more!"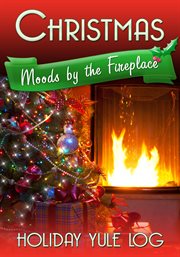 Hoopla also offers a streaming version of the yule log at two hours long titled Christmas Moods by the Fireplace – "there is nothing more festive than a fire on a cold winter's night, watching a flickering flame rekindles the spirit of the holiday season. Burning for a restful two hours, this program turns your TV or computer into a flickering fireplace."
Prefer the dessert version? Check out these Yule Log recipes from the Seattle Times Archives!
This slideshow requires JavaScript.
And if you want to watch the yule log while eating the Yule Log then you can add a cozy mystery to top it off! Yule Log Murder is three holiday themed books in one:
Yule Log Murder by Leslie Meier: Lucy Stone is thrilled to be cast as extra in a festive period film–until the set becomes a murder scene decorated in blood and buttercream icing. Returning to her role as sleuth, Lucy dashes to restore peace to Tinker's Cove, unwrap a cold-hearted criminal's MO, and reveal how one ornate yule log cake could possibly cause so much drama.
Death By Yule Log by Lee Hollis: Hayley Powell's holidays aren't off to a very merry start. Not only has her daughter brought Connor-an infuriatingly perfect new beau–home to Bar Harbor, but a local troublemaker has been found dead with traces of her signature yule log cake on his body. As Connor becomes the prime murder suspect, Hayley must put aside her mixed feelings to identify the real killjoy.
Logged On by Barbara Ross: Realizing she can't make a decent Buche de Noel to save her life, Julia Snowden enlists the help of her eccentric neighbor, Mrs. St. Onge, in hopes of mastering the dessert for Christmas. With everyone in the old woman's circle missing or deceased, however, it's up to Julia to stop the deadly tidings before she's the next Busman's Harbor resident to meet a not-so-jolly fate.
Have a blessed yule!
~posted by Kara P.