Check out these upcoming events with Livewire's hosts Hameister and Burbank, open mic readings at the Columbia and Ballard Branches, Phillip H. Hoffman, Director of the Alki History Project, discusses the story of the Town of Alki at the Southwest Library, and Ginger Gaffney discusses their memoir.
The free programs listed below are held at a variety of library locations in February; please check our online Author and Books Events calendar for complete details on these featured events and more.
Writers Read
Sunday, February 9 at 2 p.m.
Columbia Branch
Join us for a monthly reading series featuring an open mic and selected author readings from local writers. Local writers will read from their diverse repertoires of poetry, short stories, novels and essays. The event will end with a Q&A session, followed by an open mic session.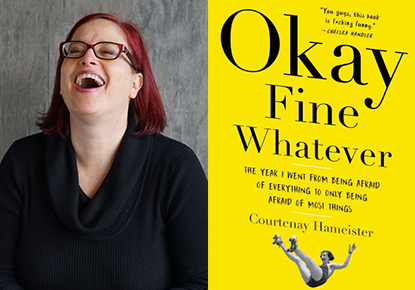 Courtenay Hameister and Luke Burbank talk about 'Okay Fine Whatever'
Wednesday, February 12 at 7 p.m.
Central Library
Join us to hear Livewire's hosts Hameister and Burbank talk about Okay Fine Whatever, Hameister's hilarious account of facing her fears. Refreshing, relatable, and pee-your-pants funny, Okay Fine Whatever is Courtenay's hold-nothing-back account of her adventures on the front lines of Mere Human Woman vs. Fear, reminding us that even the tiniest amount of bravery is still bravery, and that no matter who you are, it's possible to fight complacency and become bold, or at least bold-ish, a little at a time. Continue reading "Upcoming Author Events for February"